Your Eye on the Region...With Paul Wharton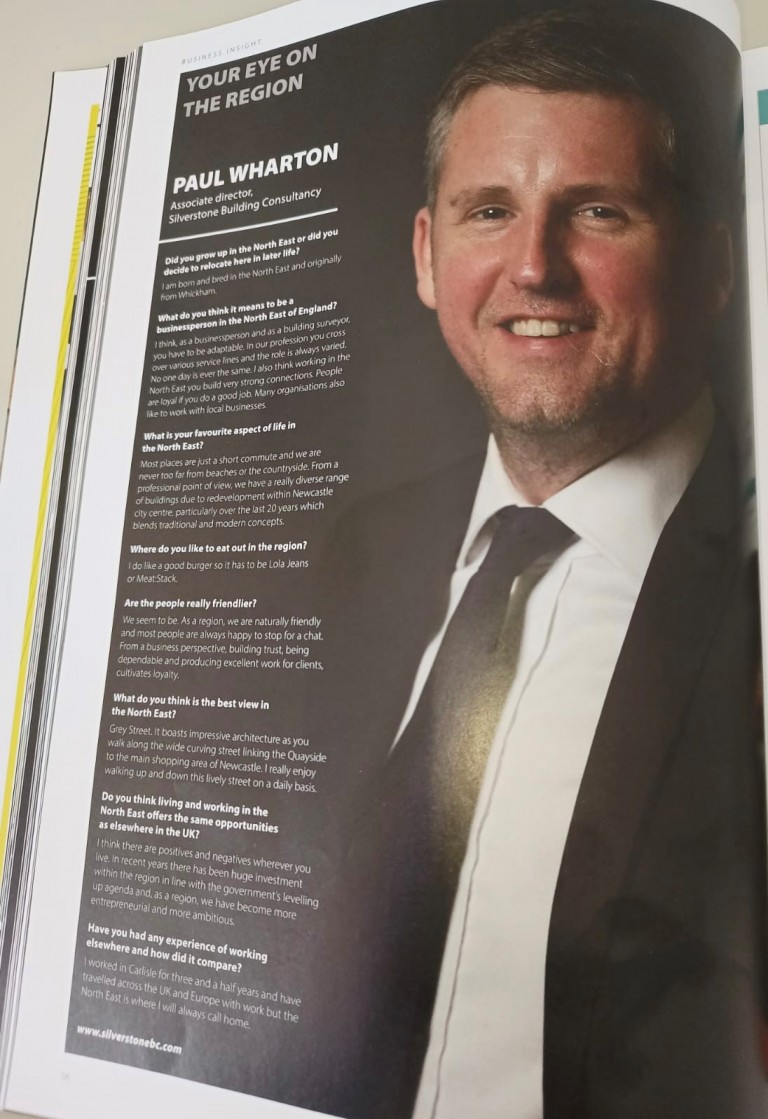 Did you grow up in the North East or did you decide to relocate here in later life?
I am born and bred in the North East and originally from Whickham.
What do you think it means to be a businessperson in the North East of England?
I think as a businessperson and as a building surveyor you have to be adaptable. In our profession you cross over various service lines and the role is always varied. No one day is ever the same. I also think working in the North East you build very strong connections. People are loyal if you do a good job. Many organisations also like to work with local businesses.
What is your favourite aspect of life in the North East?
Most places are just a short commute and we are never too far from beaches or the countryside. From a professional point of view, we have a really diverse range of buildings due to redevelopment within Newcastle city centre particularly over the last 20 years which blends traditional and modern concepts.
Where do you like to eat out in the region?
I do like a good burger so it has to be Lola Jeans or Meat Stack.
Are the people really friendlier?
We seem to be. As a region, we are naturally friendly and most people are always happy to stop for a chat. From a business perspective, building trust, being dependable and producing excellent work for clients, cultivates loyalty.
What do you think is the best view in the North East?
Gray Street. It boasts impressive architecture as you walk along the wide curving street linking the Quayside to the main shopping area of Newcastle. I really enjoy walking up and down this lively street on a daily basis.
Do you think living and working in the North East offers the same opportunities as elsewhere in the UK?
I think there are positives and negatives wherever you live. In recent years there has been huge investment within the region in line with the government's levelling up agenda and, as a region, we have become more entrepreneurial and more ambitious.
Have you had any experience of working elsewhere and how did it compare?
I worked in Carlisle for 3.5 years and have travelled across the UK and Europe with work but the North East is where I will always call home.