Silverstone complete £5 million project for Gestamp Tallent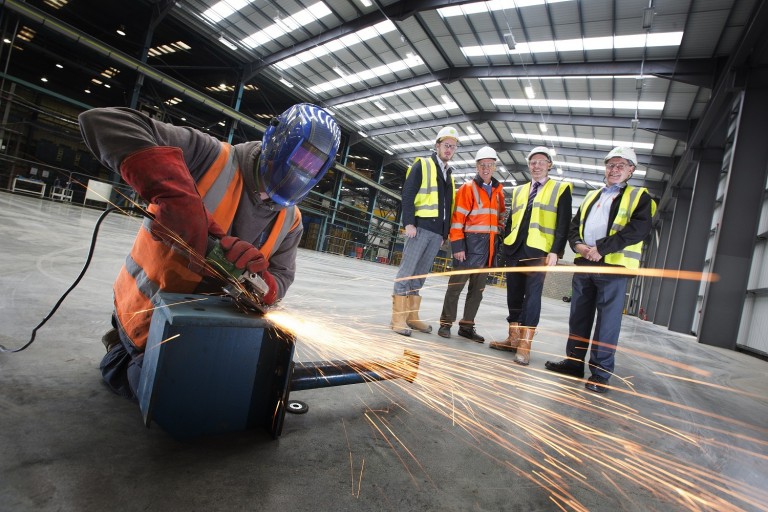 Silverstone has recently completed a project management instruction to oversee the construction of a £5 million manufacturing plant for car parts manufacturer, Gestamp Tallent.
The twelve-month project involved the partial demolition of Plant 1 at Gestamp's Newton Aycliffe headquarters and the construction of a new 45,500sqft press hall and parts storewhich extends to 18m high to house specialist bespoke racking and two new state-of-the-art presses.
Silverstone worked alongside main contractor, Howard Russell Construction, structural and civil engineers, Shed and mechanical and electrical engineers, Sine Consulting.
Gestamp, which employs over 1,300 staff, has a total of five manufacturing plants at their extensive Newton Aycliffe site where they design and manufacture chassis structural products for automotive giants including Nissan, Volvo, Ford, Jaguar, Land Rover, Honda and BMW.
Silverstone previously project managed the construction of Plant 5 in 2012, an £8 million award winning manufacturing facility, which provided Gestamp with a 185,000sqft extension to their existing production facilities.
Richard Farrey, director at Silverstone said: "Gestamp are one of our longest standing and most valued clients. We have developed an excellent understanding of their manufacturing systems over the past few years which has enabled us to tailor our services to their specific needs. Winning these instructions has given the team at Silverstone a fantastic opportunity to showcase our project management skills on large-scale construction projects".
Silverstone has also been instructed to project manage the redevelopment of a further £1 million factory for Gestamp as part of their ongoing investment.
Peter Gallone, plant director at Gestamp Tallent said: "As our business and customer base continues to expand we need to ensure assembly lines and production facilities are renewed to increase efficiency and output. This latest phase of development is part of a long-term investment strategy to renew some of the older facilities on site. The redevelopment of Plant 1 has provided us with another state-of-the-art manufacturing facility to mirror Plant 5. Silverstone have proven to be a valuable partner on many of our building projects."