North East v Yorkshire Rugby Festival raises money for St Oswald's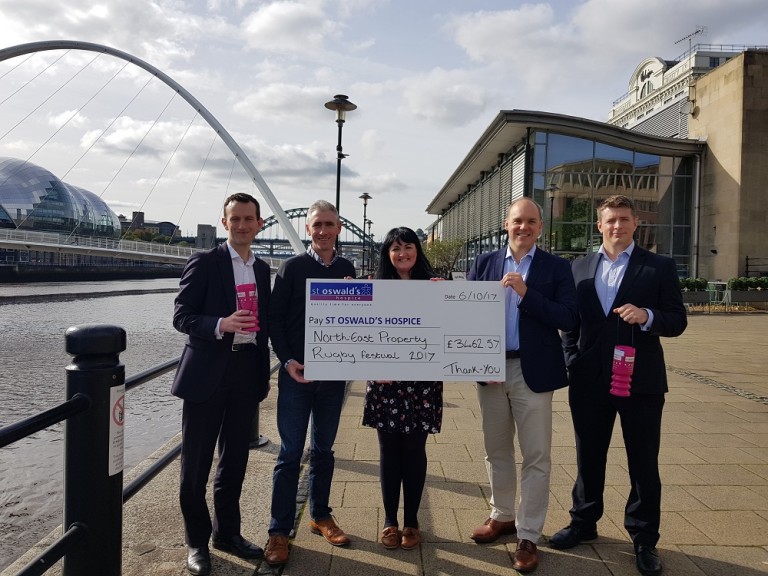 Silverstone Building Consultancy, alongside GVA and Knight Frank's Newcastle offices were delighted to hand over a cheque for £3,462 to St Oswald's, following the successful North East v Yorkshire property festival earlier in the year.
Surveyors, fellow professionals and developers active in the North East and Yorkshire property markets got together to support the festival at McCracken Park, Gosforth. The event saw over 400 property professionals come together to network and raise funds for St Oswald's Hospice, which provides specialist care to North East adults, young people and children with life-limiting conditions.
Alongside stalls, games and a half time touch rugby match, the main event was a close fought contest between the two regions. The game was tight and physical, with the North East side pipping their Yorkshire colleagues to the post with a score of 24 – 21.
Richard Farrey, Director at Silverstone said: "The rugby festival was a huge success and whilst we were pleased to be the winning team we are delighted to be able to raise a significant sum for a very worthy cause. We are now planning on making this an annual event and look forward to the next gathering in 2018."
Over forty Surveying firms were represented across both teams and the event attracted a number of regional and national sponsors including Quorum Business Park, GVA, Knight Frank, Ryder Architecture, PD Ports, Mincoffs, Pattinson, Hanro, Naylors, Silverstone and Cecil M Yuill, raising over £4,000 for the hospice.
Siobhan Sargeant, Senior Corporate Fundraiser at St Oswald's said: "We're thrilled to have been selected as the chosen charity at this year's inaugural rugby match at Northern Football Club.
The wonderful teams at GVA, Knight Frank and Silverstone have done a phenomenal job organising the match and the day itself has been fantastic. The event was also a brilliant networking opportunity for the Hospice and we were introduced to several companies from across the North East who are keen to become more involved in the work St Oswald's does.
We rely hugely on the support we get from corporate sponsors as we need to raise an additional £7 Million each year to continue to keep our doors open and provide the level of care we do. We are so grateful to everyone involved in organising the event and hope to work together soon."