£500k refurbishment of flagship VW car showroom gets underway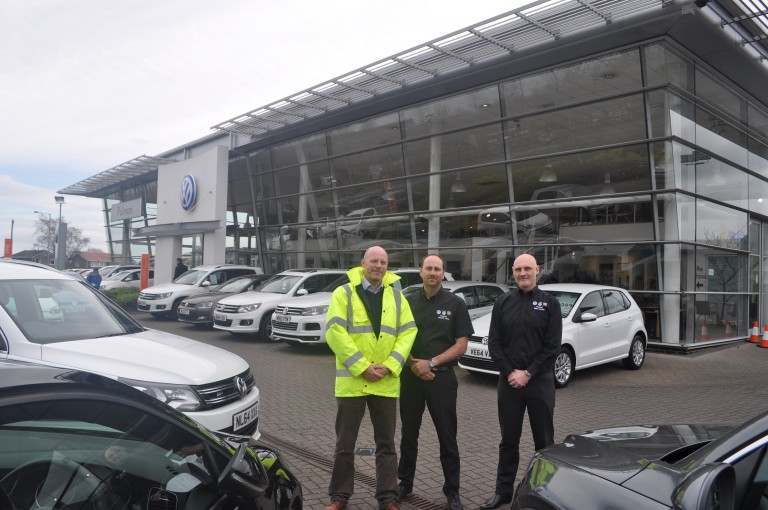 Pulman Group has started a £500,000 refurbishment of its flagship Volkswagen car showroom on Abbey Road in Durham.
Silverstone Building Consultancy has been appointed as Project Manager on the refurbishment, following their successful completion of a 'pop-up' ŠKODA car showroom for the Pulman Group last year, providing temporary accommodation for the new franchise.
Robertson Construction has been appointed as the main contractor on the Volkswagen refurbishment following a competitive tender process in which three other construction companies pitched for the work. The 15 year old car showroom will undergo a full refurbishment to upgrade all internal and external elements of the building to bring it in line with the new Volkswagen retail concept.
Richard Farrey, director at Silverstone said: "We have worked closely with Volkswagen to prepare specifications, gain planning consent, appoint a professional team and tender the works. Following Robertson's appointment the refurbishment project is now underway and we anticipate completion in 12 weeks. We have planned the project carefully to allow Pulman to continue trading as normal during the refurbishment."
Pulman has also appointed Silverstone as Project Manager on the construction of a
£2 million new build ŠKODA retail concept in Durham which will replace the temporary car showroom they developed last year. Construction companies have been invited to tender for the design and build project which is expected to start on site in June 2015.
Pulman launched its first retailer in Durham in 1998 starting out with 17 employees, they now employ over 160 people. The new ŠKODA retailer will bring their total number of showrooms to four.
Pulman's managing director, Mike Pulman said: "This is a very exciting time for Pulman, the re-development of our Volkswagen site in Durham is part of an ongoing investment programme that will provide our customers with a fantastic revitalised blended retail facility, whilst of course keeping the distinctive Pulman experience that our customers expect, along with showcasing the complete Volkswagen model range."