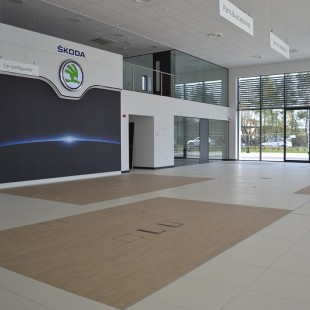 Silverstone project managed the construction of a new, purpose-built £2 million ŠKODA retail concept at Belmont in Durham on behalf of Pulman Motor Group.
The new premises replaced the temporary 'pop-up' ŠKODA car showroom on Abbey Road, which we previously designed.
We have worked with Pulman on a number of projects including a £500,000 refurbishment of their flagship Volkswagen car showroom in Durham.
The new ŠKODA retail concept includes a car showroom area which has the capacity to accommodate nine display vehicles as well as a servicing workshop, external sales forecourt, cafe and catering kitchen.
The finished product is a state-of-the-art facility of exceptional high quality throughout, which has been designed with energy efficiency in mind including solar panels, water recycling and high specification cladding and glazing.
Silverstone worked alongside the main contractor, Surgo, and a design team including architects, Ian Belsham Associates, mechanical and electrical contractors, Sine Consulting and Portland Consulting Engineers.
For further information about how we can help with your project contact Richard Farrey on 0191 231 4263.